Our Philosophy
The McLean's philosophy is simple: provide healthy, farm-fresh, delicious produce to local communities. With an emphasis on quality, freshness and friendly customer service, we work tirelessly to ensure that the food we grow is the best it can possibly be. We welcome the public to our farm whenever possible to create connections between you and your food, allowing you to see where and how it is grown. Visit us and enjoy the best tasting local produce the region has to offer.
McLean Berry Farm is our original farm location, bought in 1991 and located on 16th Line. McLean Berry Farm is a 99 acre farm filled with fields of produce as well as home to our Sugarbush. Nestled among apple trees and blueberry bushes, our main on-farm store is at this location and is filled with our own and other local farm fresh produce, open from strawberry season in June to pumpkin season in October. McLean Berry Farm is also home to our annual Maplefest each spring.
Buckhorn Berry Farm is our second location, bought in 2010 and located on Berrie Road, just off of Deer Bay Road (only one concession north of our McLean Berry Farm location). At 187 acres it is larger than our McLean Berry Farm location and is now home to most of our strawberry and raspberry plantings, though this varies from year to year depending on crop rotation. Buckhorn Berry Farm is also where our annual Pumpkinfest is held each fall.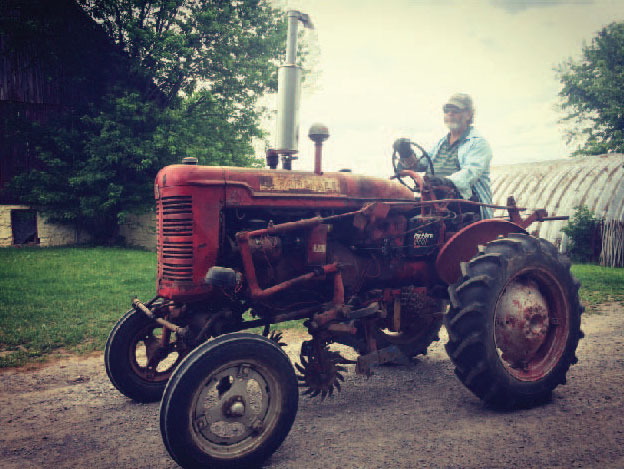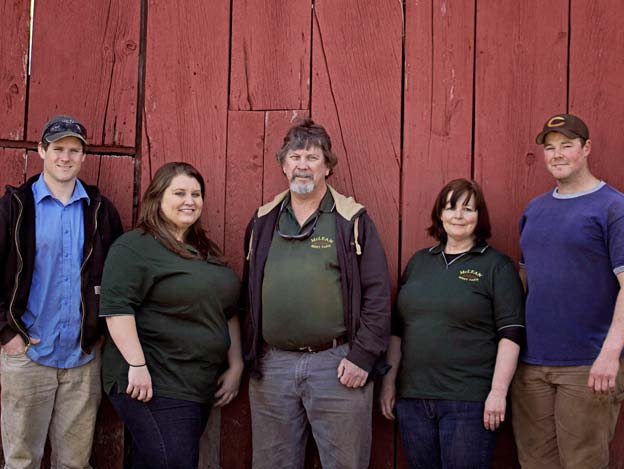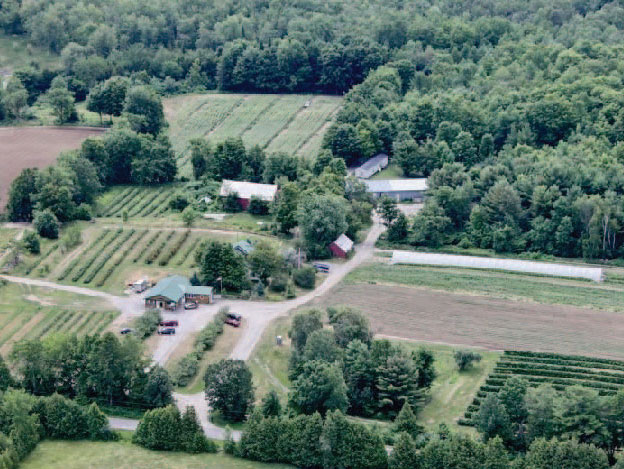 Since 1991 the McLean family has been focused on providing their surrounding local communities with fresh, local and delicious produce and products from McLean Berry Farm. In 2010 with the involvement of the next generation of Mcleans we expanded to buy a second farm, Buckhorn Berry Farm. In the summer season, we offer Pick Your Own strawberries and raspberries as well as other fruits and vegetables, have two on-farm stores, sell to local grocery stores and attend various farmers' markets throughout the region.
Each March, the McLean family kick off spring by collecting, boiling, and bottling our own maple syrup. This exciting time marks the end of winter and reminds us that warmer and longer days are ahead. We have currently paused our annual Maplefest celebrations – we hope to pick this up again sometime in the future, but for now we are dedicating our winters to spending time with our families and preparing for the upcoming growing season.
As spring continues we gear up for planting and begin to sow seeds for the summer season ahead. With almost 300 acres of land, around 220 of it is used for production of fruits, vegetables and maple syrup each year. Our farm store opens with the beginning of berry season in mid June where we offer Pick Your Own strawberries, followed by peas (sugar snap & pod), beans and raspberries. Other seasonal produce begins to ripen on the farm and we offer pre-picked fruits and vegetables for sale at our on-farm stores and farmers' markets each summer from June until October.
In the fall we open for our annual Pumpkinfest for the last weekends of October, starting Thanksgiving weekend at our Buckhorn Berry Farm location. This includes wagon rides, pumpkin picking, mazes, a pumpkin cannon and so much more family fun! We welcome everyone to enjoy the outdoors on the farm one last time before the season ends.
From asparagus to tomatoes, sweet corn to pumpkins and so much more in between, our family works all season long to grow and harvest delicious local produce for your family to enjoy.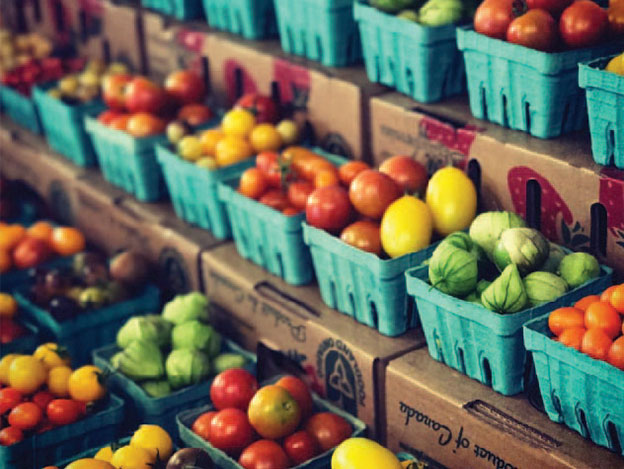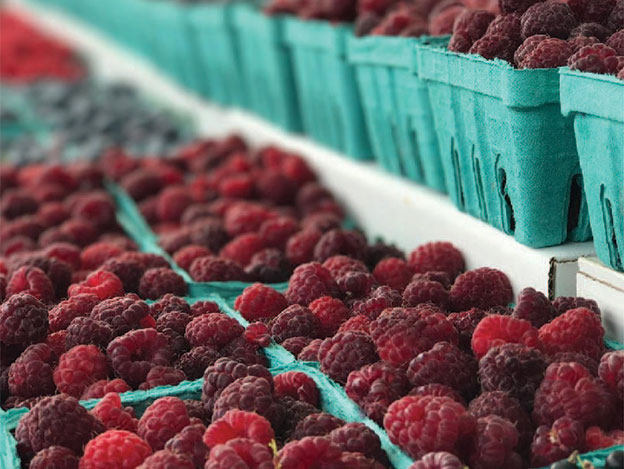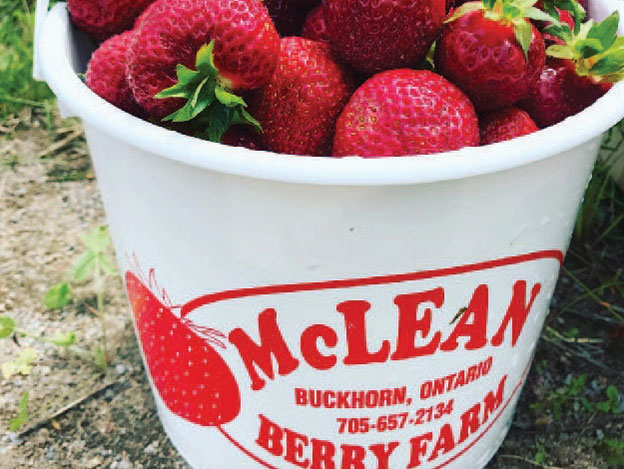 History
The farm now known as McLean Berry Farm was homesteaded in the mid 1800's and has produced maple syrup for around one hundred years. In the mid 1950's Clarence Northey, the farm's then owner, set out to grow some of the first strawberries in the area and the farm has been producing them ever since. When Clarence retired, he sold the farm and it passed hands a couple of times.
In January 1991, Sam and Jane McLean bought the farm and moved in with their two small children. That summer, they offered their first fruits and vegetables for sale. Nurturing one of the areas first strawberry farms back to its original working condition took many years of hard work, and a lot of love, and it is with hard work and love that the farm has grown and expanded into what it has become today.
As Sam and Jane's children grew, they became active and contributing members of the family farm, developing a love for the farm and for providing the community with fresh, local and delicious fruits and vegetables. In 2010, with Ben and Erin's increasing involvement, the McLeans purchased a second berry farm, Buckhorn Berry Farm, one concession north of the McLean's home farm. They now farm both farms, working together as a family to grow farm fresh produce, attend various local farmers' markets, offer pick your own, sell wholesale to local grocery stores, as well as provide on-farm family festivals such as their annual Pumpkinfest. They have also expanded their store(s) in order to display the wide variety of produce that they grow, and to allow the space for them to complement their own home grown produce with other local products such as honey, beef and eggs from other local producers.
They are constantly working to increase the variety of crops that they grow, and their availability throughout the season, using a vast number of growing techniques. Trickle irrigation, day neutral strawberries, fall raspberries and high tunnels are only a few of the ways that the McLean family is working to extend and improve their growing season and techniques in order to provide their customers with fresh fruits and vegetables each season.